Benefits
It's important to us that you know you are not alone. Financial problems related to credit cards and other debt are a serious issue for our nation. We are here to help you on your path toward a brighter future.
Take control of your finances!
Trained professionals are ready to assist you on a one-to-one basis.
Setting up a balanced budget is critical to your financial success, and we provide assistance and support through the process.
Our debt reduction program lowers monthly payments and interest rates (in most cases).
Avoid bankruptcy. Bankruptcy will hurt your credit and stay on your record for years.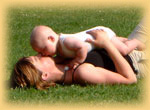 Call Us Toll Free!
1-800-342-7686